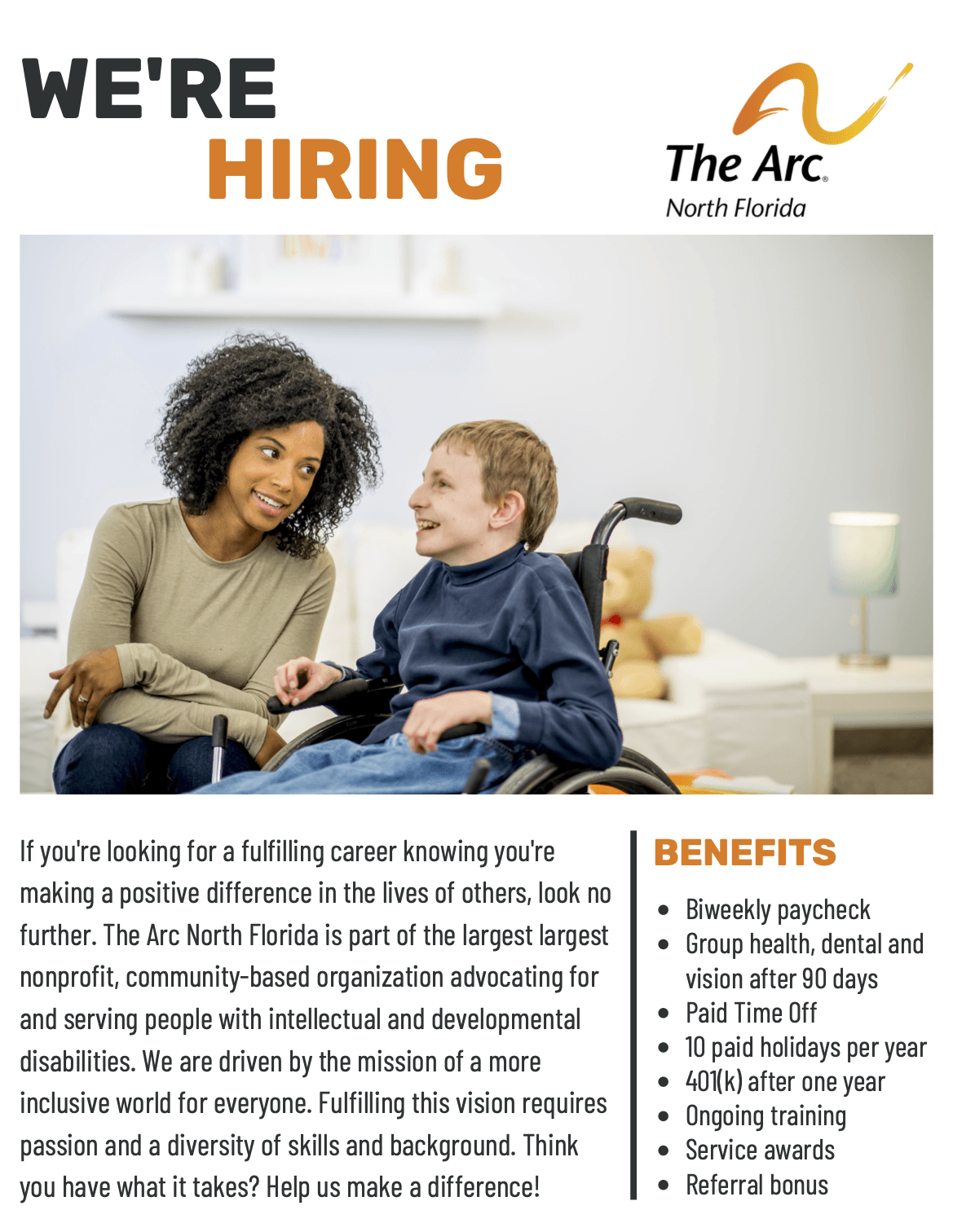 Current Openings
Full-time, hourly. Positions available for Baker and Suwannee counties.
Click on the title for the position description and minimum qualifications.

Please click to open the positon description. Please note that this is an OVERNIGHT ONLY position.

Click on the title to see the position details.

Supported Employment Professional

MINIMUM QUALIFICATIONS:
Bachelor of Arts degree from an accredited college or university with a major in business, nursing, education or social, behavioral or rehabilitative science. Experience in one of the previously mentioned fields shall substitute on a year-for-year basis for the required college education. Physical ability to assist consumers on job sites. Must possess valid Florida driver's license and insurance with good driving record. Available to work flexible hours and days. Effective interpersonal and communication skills. Ability to analyze work tasks. Strong desire to work with people with disabilities. Must be capable of working independently. Maintains First Aid/CPR, aids, and Job Coach Certifications. Pass required background screening.

GENERAL STATEMENT OF RESPONSIBILITIES:
Develop job opportunities, obtain placement for and provide hands-on training of persons with disabilities in community-based employment.

EXAMPLES OF WORK (NOT ALL INCLUSIVE):
1. Participates in development and assessment of consumer pool.
2. Completes job analysis and training plan.
3. Provides intensive one-on-one training. Ensures the job gets done.
4. Provides follow along services as assigned.
5. Provides training in support areas such as transportation, money, skills, grooming, and other skills needed to succeed on the job.
6. Collects data and retrains as needed.
7. Maintains and submits reports as required.
8. Maintains liaison with employers and potential employers.
9. Works flexible hours/days as needed, be available for response to pager requests.
10. Ensures maximum integration of each worker at the job site and in the community.
11. Monitors and anticipates consumer needs in relation to continued success of the placement.
12. Works closely with other The Arc North Florida, Inc. staff.
13. Receives a minimum of 24 hours per year of job related in-service training. Maintains First Aid/CPR, Aids, and contagious disease training. 8 hours of training must be for supported employment issues. A minimum of 12 hours pre-service training is required.
14. Provide physical assistance to consumers as needed.
15. Performs other duties as required.