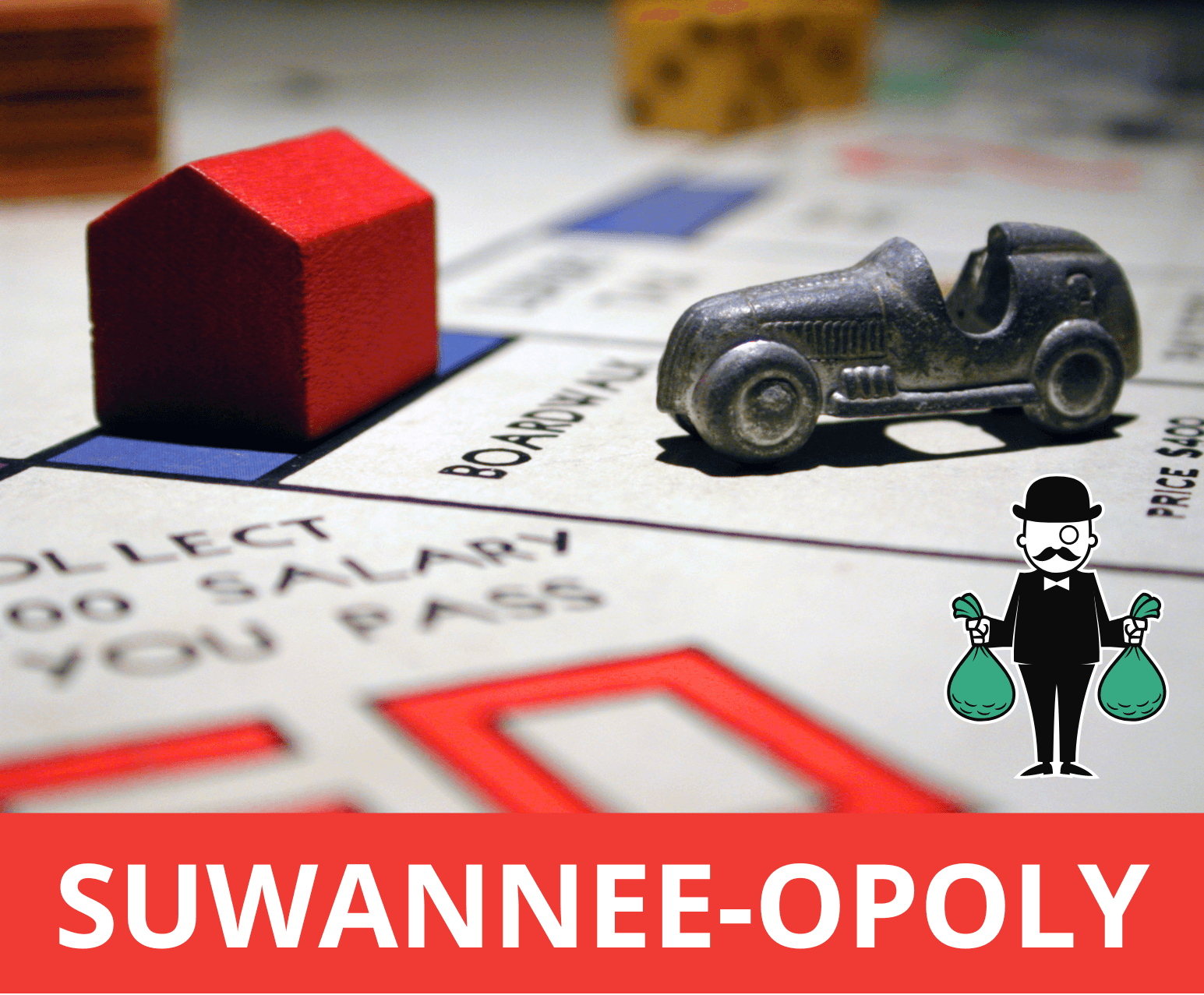 Here's your chance to show off your real estate investing skills and have fun while benefitting The Arc North Florida! Our "Suwannee-opoly Tournament" uses the game Monopoly as a foundation...but with local streets and businesses. A total of 16 players compete in tables of four for one hour. The player with the most total assets at each table advances to the Championship Round. Whoever has the most assets at the end of that 60-minute round is crowned the Real Estate Mogul of Suwannee County, winning a trophy, a prize and one of the game boards.
Players: must raise a minimum of $100 in donation pledges to participate. The amount raised (including any sponsorships sold) is added to your opening bank for the first round so the more you raise the bigger advantage you have! Only 16 players may participate. You may count any sponsorships you sell after the first $100 toward your opening bank.
Sponsors: All streets and spaces on the game board are available for sponsorship at $100 each and include naming rights. Whatever name you choose will be printed on the game board. It could be your street name, your business, or any other name you want on the space you choose (i.e., Kentucky Ave, Park Place, etc).
Volunteers: We need four volunteers to serve as bankers, one for each game. We also need one volunteer to serve as overall Judge of the tournament to settle any disputes and ensure rules are followed.
Spectators: are welcome to attend and cheer on players! Please bring your own chairs.
Game Rules: Each player starts with an opening bank of $1500 plus whatever they raise above their $100 entry. All property deed cards are shuffled (face down) and the banker deals, one at a time, two property deed cards to each player, who must then pay the bank the printed price of that property. Normal Monopoly rules apply for the progression around the board, with $200 paid to each player as they pass GO. Each of the four tables plays the game independent of the others. At the end of the first 60 minutes the player at each table with the highest assets (cash PLUS properties) is the winner of that table, cashes in all properties purchased, and advances to the Championship Round. After a brief recess, the four finalists start a new game, each bringing their own bank (cash left from the opening round plus what was earned by cashing in properties) to the new game. The final round is also 60 minutes and the player with the most assets (cash PLUS properties) is declared the winner.
For questions, or to sign up as a volunteer, please contact Michelle at (386) 703-0003 or mpollina@arcnfl.com.