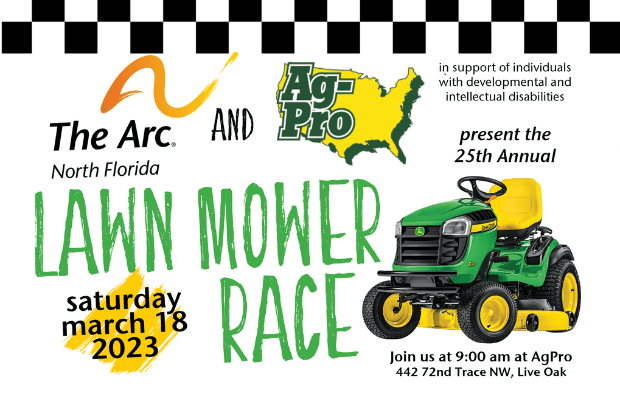 The 25th Annual Lawn Mower Race will be held on March 18, 2023 at AgPro in Live Oak. Come out for a day of fun as racers vie to see who can get a riding mower to the finish line first, while completing a series of entertaining Pit Stop challenges along the way. There will be games and activities for the whole family, and the community always comes out to support this fun event. We'll have the grill out, so hang around for lunch!
Teams use riding mowers provided by AgPro to compete in 3-person heats to be the first around the 1/8 mile track, completing various Pit Stops along the way. Entry fee is $75 per team of three and includes lunch. Prizes are awarded for 1st and 2nd place teams!
Sponsors are welcome!
Track Sponsors have their sign displayed along the racing track. You're invited to come watch all the action and cheer on your favorite racers! Track Sponsorship is $150 and includes a sign with your logo plus a team in the race.
Pit Stop Sponsors have a table along the track with their own unique challenge. Racers must stop at each "pit stop", complete the challenge, and get back on the mower to continue the race. Pit Stop Sponsorship is $300 and includes a table and sign, along with a team in the race.
Your participation helps to fund programs for individuals in our community with intellectual and developmental disabilities, so come join us! Sign up online.
We are proud to host our 25th Annual Lawn Mower Race, now with AgPro in Live Oak! Come out for a day of fun as racers vie for the champion's trophy, completing a variety of entertaining Pit Stop challenges along the way