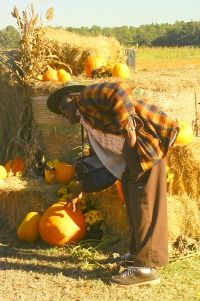 Pick a pumpkin from the vine.
You pick yours; I'll pick mine.
Pick a pumpkin from the vine.
Let's pick pumpkins!
Autumn brings cool weather, pumpkins and corn mazes. The Suwannee and Hamilton ADT Centers took a trip out to the IFAS Research Farm in Live Oak, FL. Suwannee County Agents Brian Estevez and Elena Toro shared pumpkin facts and growing tips with the Live Oak and Jasper ADT groups. Everyone got to pick a mini pumpkin, walk through the maze and enjoy the beautiful day.