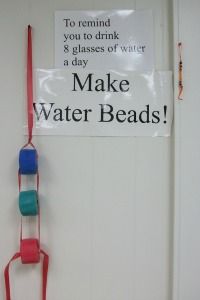 On August 6th the Suwannee ADT visited the County Extension office for an educational day. Cathy Rogers, Extension Agent explained the of daily water intake. The classroom talked about what product shave good water and when it is important to drink water. A great hands-on project was included as the clients made their own water beads.
A bead is moved from top to bottom each time a serving of water is drank. This project is a great visual reminder to drink plenty of water in a day.
Part of CCS mission goal is to provide the necessary training to function as independently as possible and each client is provided opportunities to participate fully in the community. The Suwannee IFAS extension agents did a great job providing education towards independence.