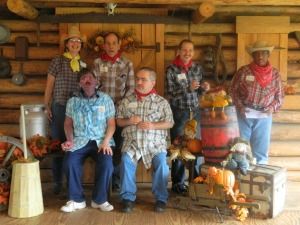 When 180 people kick up their heels "down on the farm" you know it will be a fun event. The Arc North Florida's 2012 Annual Awards Banquet to celebrate 31 years of operation was held at McCulley Farm's Banquet Barn. Guests arrived dressed as farmers and ranchers to celebrate the successes of The Arc's many clients and to recognize the individuals and local businesses that provide support to the organization.
The audience was treated to a special performance by The Arc Singers, accompanied by Farmer Dick Grillo, and the group sang a variety of old favorites like Old McDonald Had a Farm. The members of the group also danced to Boot, Scootin' Boogie which was sung by lead singer, Tammy Truluck. Dinner for this year's banquet included top notch BBQ cooked up by Arc supporters, Wyman Clark and Bobby Cason.
Based on the smiles on the faces throughout the night, everyone had a wonderful time. We always say this, but everyone said that this year was the best event we've ever had. We really appreciate all of the volunteers and table sponsors for their support."
Nominated awards were given to the clients, individuals and area business people in the following categories:
One individual from each Adult Day Training Center was presented an award to recognize the great strides they have made towards reaching their personal goals and increasing their self-advocacy.
The recipients were James Drury from the Suwannee County program and Joe Gibbons representing Hamilton County and Mary Starling from Baker County.
Danny Miley of Live Oak was given The Freedom Award for the great advances in self-advocacy in independence and community living he has made.
Additional awards were given to the following recipients:
Outstanding Direct Care Staff – Tammy Fast of Live Oak
Community Supporter of the Year – Nancy Roberts of Live Oak
Volunteer of the Year – Ken & Sandi Bartolotti of Live Oak
Leadership in Fundraising – Knights of Columbus of Suwannee County