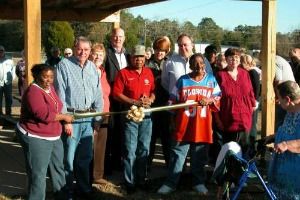 The recently completed pavilion at CCS in Live Oak was dedicated on Saturday, January 29th. A large gathering of CCS clients, their family members and community friends were on hand to help celebrate the event. The evening events included a dedication prayer offered by Vicar Bryant of Spirit of Christ Lutheran Church along with a ribbon cutting ceremony performed by Live Oak Mayor Sonny Nobles and members of the City Council.
The project has been in progress for almost five years. The list is long of community supporters including financial support from local groups like the Live Oak Garden Club, Altrusa and the Live Oak Womens Club. Business partners included Columbia Ready Mix Concrete and Ubetcha Masonry who helped build the pavilion pad, as well as Officer Philip Rodenberry and men from Suwannee Correctional Institution who built the pavilion roof. CCS has gained national support from Push America with grant funding for needed projects.
Live Oak resident Lucille Heinrich and members of her church, Spirit of Christ Evangelical Lutheran in Lake City, organized the dedication dinner and included many of the organizations that have supported the program. Entertainment was provided by the CCS singers who were accompanied by Dick Grillo. Branford resident Willie Veal provided the meal for the group with financial support provided by Thrivent Financial for Lutherans. The evening ended with guests receiving door prizes provided by J.C. Penney, Wal-Mart of Lake City and Live Oak, Publix, Cracker Barrel, McAllister Restaurant of Lake City, and Nobles Greenhouse.
Comprehensive Community Service is grateful for the support of surrounding community business' and neighbors that have worked hard to help complete this project.