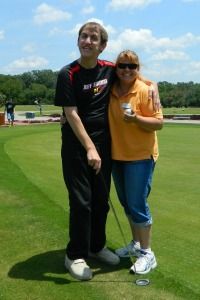 The 2013 Golf Tournament was a success and The Arc clients are the Big Winners!
This year's title sponsor, Poole Realty, was joined by corporate sponsors, Potash Corporation, Macclenny's Wal-Mart Distribution and Lake City's Timco, along with 65 other area businesses, to help The Arc raise over $5,200.
Attracting some of the area's best golfers, this year's tournament also got the attention of some of The Arc's clients and staff members who came to the course just to have fun on the putting green. "For our clients, hitting the ball for the first time was the highlight of their day because every time they took a swing, they were greeted by rousing applause." Lake said.