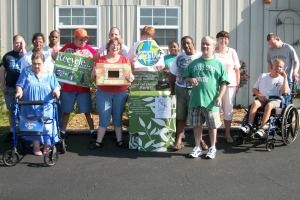 Do you want to do your part in saving the environment? Plastics used in printer cartridges can take from 450 to 1000 years to decompose and many of the leak ink which pollutes the are's ground water! Our clients have been doing some study on this subject and they have decided to do their part by starting a program called STOP, DROP & RECYCLE to recycle printer ink cartridges, laser cartridges and old cell phones and mp3 players.
Currently, the clients in the Suwannee and Hamilton ADT Centers are busy dropping off collection boxes around their respective counties.
Once they've established their routes, they will schedule pick up dates at each location so that they will have time to sort and pack the recyclable items. If you've been throwing your inkjet and toner cartridges into the garbage up to this point, you're not alone. It's estimated that over 13 cartridges are discarded in the U.S. every second. You can help us by turning them into one of our drop-off locations.
Wes Haney Chevrolet in Live Oak has agreed to help with the campaign by allowing CCS to place a convenient recycling drop-off box in their showroom lobby. Additionally you can drop off your items at Suwannee Valley Electric in Live Oak, the Live Oak City Hall, the Suwannee County Tax Collector's office, and at our main office at 511 Goldkist Boulevard in Live Oak. For Hamilton County locations, please call us at 386-362-7143, Ext 5 to learn where the drop-off sites are. If you would like to get on our pick up route to have a collection box dropped off at your business, you may call us for more details.