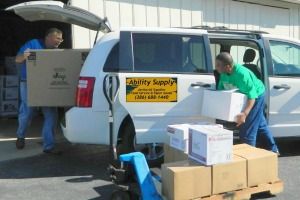 We are pleased to announce the opening of Ability Supply, Inc. a for-profit company owned by The Arc North Florida.
Ability Supply has opened their office in Live Oak at 511 Goldkist Blvd SW.
The staff at Ability Supply has over 15 years of experience and offer a full line of:
-Janitorial Supplies
-Kitchen Service Goods and Paper Goods
-Cleaning Chemicals
-Cleaning and Office Equipment
Ability Supply will offer discounted pricing to businesses, churches and non-profit organizations that purchase in volume.
Local delivery will be available in areas where The Arc North Florida offers services, and convenient drop shipment can be made anywhere in Florida.
Proceeds from sales will be returned to The Arc North Florida to help fund the programs offered to people with intellectual and developmental disabilities.
For more information, please contact
Bobbie Lake at 386-362-7143 Ext. 1 or blake@arcnfl.com.