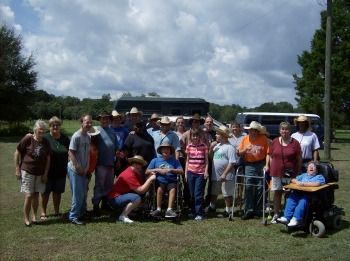 Cody Lee, a long-time student at CCS, Comprehensive Community Services, in Live Oak, hosted a Cowboy Lunch for his friends at CCS on September 16. Fifteen clients and five staff members enjoyed a day at Jesse Lee's ranch.
Jesse Lee, Cody's dad, Jarad Lee, his brother, his cousin David Blackburn, his stepmom Debbie Lee, and several other members of the Lee family fired up the grill and cooked burgers made with meat from one of the Lee's steers. Will Adams and his wife helped out with the cooking and the serving.
Before lunch, the clients were given a tour where they helped shovel saw dust and clean stalls. After the stall cleaning, they rode two of the Lee's horses. Everyone got a ride and a chance to pet the horses.
When the rides were over, it was time to wash off the horses and put them away. Lunch was served around noon.
CCS Service Aide Lisa Perry said, "It was a day full of fun and excitement. Clients and staff enjoyed the horseback riding, golf cart rides, good food and good people. The grilled burgers, sweet tea and strawberry cake were absolutely delicious. We are very appreciative of the Lee's for inviting us out and giving us such a treat."
Perry added, "It was a wonderful gift to see such happiness in our clients and the smiles on their faces. What a relaxing and enjoyable day the Lee's gave to our clients! It is a true blessing to have the Lee family and friends as a part of our CCS family."