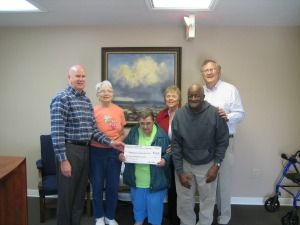 Members of Spirit of Christ Lutheran Church in Lake City held a Spaghetti Dinner and Live Auction in August to raise funds for Comprehensive Community Services, Inc. (CCS). The auction, with donated items from church members which included hand crafted knives, bird houses and quilts, netted $1225 which will be used by CCS to build a cover for an outside pavilion at their Adult Day Training Center.
In addition to the Dinner and Auction, the church members were also able to secure $745 in matching grant funds from the Thrivent Financial for Lutherans "Care in the Community" program. Thrivent Financial is a national organization that serves the needs of Lutherans by offering investment services, banking and trust, and insurance products. According to Bobbie Lake, CCS Executive Director, the gift will put CCS very close to reaching their goal of providing a safe place for their clients to go during inclement weather. "We appreciate the hard work and creative spirit that went into this project. The members of the church have really demonstrated a caring attitude by helping us with this project" Lake said.
Pictured accepting the check are (front row L to R) Bobbie Lake, CCS Clients Nancy Smith and Joe Gibbons, and Jerry Moellenkamp, CCS Board President. Making the presentation (back row L to R) are Spirit of Christ members Linda Hart and Lucille Heinrich.